Wendy Stewart and Chrys Salt: Weavers of Grass
16 August 2021
–
30 August 2021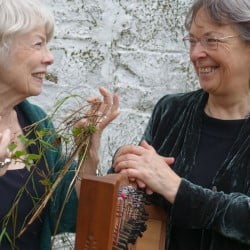 News of an Edinburgh Fringe show with Wendy Stewart – from the comfort of your own home!
Writer Chrys Salt and I are performing a digital version of 'WEAVERS OF GRASS' AT THE EDINBURGH FESTIVAL FRINGE from now until August 30th – two of Chrys` narrative sequences celebrating lives 5000 years apart, linking Hebridean artist Angus MacPhee and Ötzi The Iceman with the ancient craft of grass weaving.
Interpretative music with harp, voice, monochord and psaltery: film-making by artist Ken Smyth.
Rooted in two collections pub: Indigo Dreams.
Tickets £5 from https://tickets.edfringe.com/whats-on/weavers-of-grass