Transpennine Harps Spring Strings 2021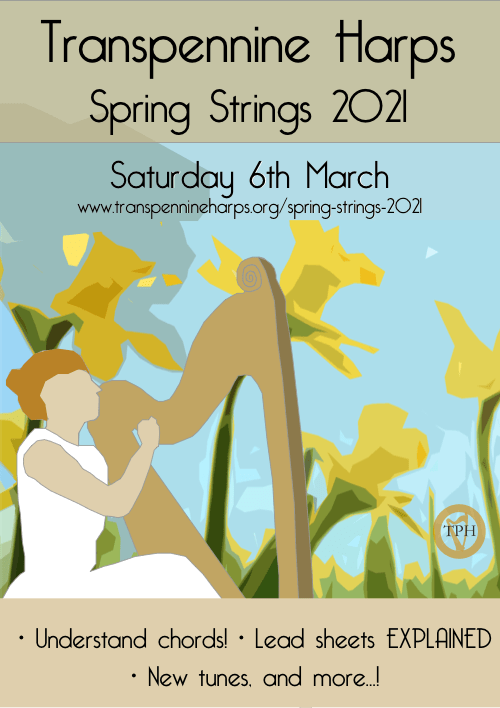 Music!
We are delighted to announce that our online activity continues apace! Join us on March 6th 2021 for another workshop-filled day! Lucy and Tamsin will be leading us through a number of classes loosely based around the theme of 'chords' – from 'what exactly IS a chord?!' for those who are new to music theory to how to actually USE them in your own arrangements.
There will of course also be the opportunity to learn some new pieces (see programme below for more details), and of course, the TPH Common Room will be open for tea and chat throughout the day. Concert!
The day will finish with an informal tea concert, where Lucy and Tamsin will be playing a selection of music including their own arrangements and also to showcase some new pieces that have been recently published that YOU TOO can play! Learning materials…!
All of the sessions will be recorded and the videos of all the sessions will be available to review for FREE to all attendees.
If you would like to view the materials for a course you did not attend in person, these (along with any relevant sheet music) may be purchased as a digital download for £3.50 and will be emailed to you after the weekend. Using Zoom to access online courses
If you are unfamiliar with Zoom (though we feel like we are all much more tech-savvy than we were a year ago!), never fear – you don't need any special equipment other than a laptop/phone/tablet and a reasonable internet connection. It is very simple to use and we are available for any troubleshooting!
There will be spaces available for private lessons of 30 or 60 minutes with both tutors (£35/hour; £17/half-hour) – please contact them to book a slot and let them know what you'd like to work on so that they can prepare materials in advance.
For further information, please visit Transpennine Harps.